Design & Development of Shared Decision Making Apps for Healthcare
As you are faced with a challenge of helping patients optimize their health related decisions, have you ever considered building a software tool to address this challenge?
Patient decision aid tools are used before, during and after consultations with a physician.
The app content is normally accessed by patients on their smartphones during therapy consultations, and address either one-off and irreversible health decision dilemmas or continual decisions that envision regular re-evaluation over time.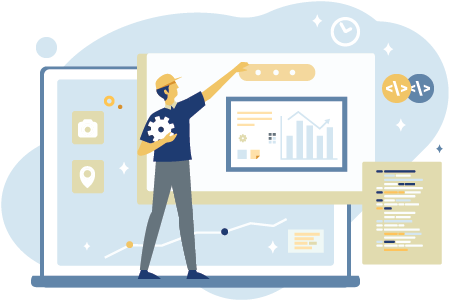 Decision tools normally calculate a personalized ranking of each patient's best options for therapy based on a weighted sum equation, i.e. the algorithm that uses patient and research-based knowledge to predict how the chosen treatment option will affect patient's health and life quality over time.
Patient decision aid tools do not provide any recommendations; they rather visualize a ranking of available options for the patient to understand and make the right treatment decision.
Shared decision making is the future of healthcare, so all healthcare providers will be forced to transition to this concept earlier or later.
Having built
a robust decision aid system
for a collaboration of the Norwegian National Health Library, Innlandet Hospital Trust, the Norwegian South-Eastern Regional Health Authorities, and DIPS ASA, Intersog® is a specialist provider that knows how to build HIPAA compliant shared decision engines with consideration of data security, UI and UX, quality and cost.
Why Choose Intersog® for Your Patient Decision Aid App Development?
Strong portfolio of custom-built eHealth and mHealth projects including telemedicine, wearable apps for smart health monitors and sports
Onshore, offshore and distributed development capabilities for nearly any budget
Access to Eastern Europe's largest pool of software engineers, architects and IT specialists
Short time to hire (within just 30 days), easy team setup scalability, Agile development and faster time to market
We respect and exceed HIPAA compliance and build our decision aid apps with full conformity to the International Patient Decision Aid Standards (IPDAS)
Check out this Computer Weekly publication featuring our DECIDE Treatment project to learn more about it!